Beets mainly consist of water (87%), carbs (8%), and fiber (2–3%).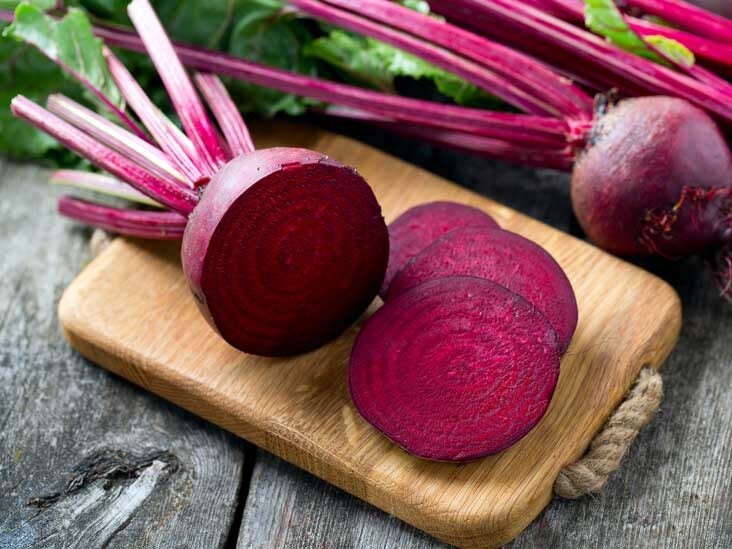 One cup (136 grams) of boiled beetroot contains fewer than 60 calories, while 3/4 cup (100 grams) of raw beets boasts the following nutrients.
Calories:

 

43
Water:

 

88%
Protein:

 

1.6 grams
Carbs:

 

9.6 grams
Sugar:

 

6.8 grams
Fiber:

 

2.8 grams
Fat:

 

0.2 grams
Carbs
Raw or cooked beetroot offers about 8–10% carbs.
Simple sugars — such as glucose and fructose — make up 70% and 80% of the carbs in raw and cooked beetroots, respectively.
Beetroots are also a source of frutans — short-chain carbs classified as FODMAPs. Some people cannot digest FODMAPs causing unpleasant digestive symptoms.
Beetroots have a glycemic index (GI) score of 61, which is considered medium. The GI is a measure of how fast blood sugar levels rise after a meal 
On the other hand, the glycemic load of beetroots is only 5, which is very low.
This means that beetroots should not have a major effect on blood sugar levels because the total carb amount in each serving is low.
Fiber
Beetroots are high in fiber, providing about 2–3 grams in each 3/4-cup (100-gram) raw serving. Fiber is important as part of a healthy diet and linked to a reduced risk of various diseases 
Beetroots are a great source of many essential vitamins and minerals.
Folate (vitamin B9).

 

One of the B vitamins, folate is important for normal tissue growth and cell function.
Manganese.

 

An essential trace element, manganese is found in high amounts in whole grains, legumes, fruits, and vegetables.
Potassium.

 

A diet high in potassium can lead to reduced blood pressure levels and positive effects on heart health
Iron.

 

An essential mineral, iron has many important functions in your body. It's necessary for the transport of oxygen in red blood cells.
Vitamin C.

 

This well-known vitamin is an

 

antioxidant 

that is important for immune function and skin health 
Looking for a perfect companion for your daily lifestyle? Check out Vahana Health now and be Healthy today! Find out more: https://vahanahealth.com/products/caffeine-free-latte